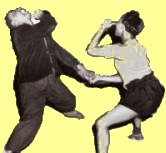 No Partner Required!
No experience needed.
Come practice and have FUN at our weekly swing dance, FREE with dance classes!
Gift Certificates Now Available!
Know someone who might be interested in swing dancing? Gift certificates for our Swing Dance Classes can now be bought online! Check it out!
What People Say About
Our Dance Classes!
"Thank you for the wonderful experience! The way you taught dancing made it easy to learn, and your clear explanations, high energy and humor made the class one of the best I have ever had. I would recommend your classes to anyone who wants to learn ... while having loads of fun!" -- former student.
"... would definitely be my first choice. I *wish* I had learned the basics from them - I would have had WAY less bad habits to get over … Good beginning instruction in the basics is one of the most vital factors in starting off … " -- from Seattle's online swing discussion board.
Every Thursday, 9:00pm - Midnight
(Except No Dance on Thanksgiving)
For the schedule of DJs & Live Music, and other dance details check out - Swing Dance Info
Swing Dance Video
We asked people what they thought about getting started in the swing dance scene - see what they have to say! You'll see what Lindy Hop (swing dancing) looks like and get a preview of what you'll find when you come to our dance classes and our HepCat Swing Dance. Click on the following video.
To view our video you need to install or upgrade your flash player on your computer.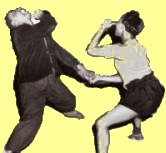 What would make classes & workshops better? What looks interesting from the list of of special focus classes? We want your feedback! Help us improve our classes -